Achieve IT security with coordinated security solutions
Firewalls or intrusion detection systems alone are no longer sufficient to counter today's security threats. Attack routes are always changing – an intelligent, learning security system is the only answer. This kind of system is not only able to fend off attacks around the clock in real time, but also to learn from them and thus to perform better and better even before attacks occur in the field of prevention.
This is where a Security Operations Center comes in. We support you in building important core areas of the SOC, up to the Managed Services level.
Aligned to your individual business requirements, individual elements of the SOC can also be integrated seamlessly into your business processes.
Security Operation Center (SOC)
The core of a SOC is an SIEM (Security Information and Event Management) and a > risk management tool. Integrating these two solutions protects your company against both external and internal attacks.
We can provide advice on the integration of existing systems and processes. We keep an eye on the costs and benefits of introducing and operating an SOC using a need-based concept for your company.
Security Information and Event Management (SIEM)
An SIEM is the central element of a precision security architecture. It combines two essential aspects of data security: security information management on the one hand, and on the other event management.
Good SIEM solutions therefore focus not only on the management of log data, but can also collect, index, and analyze event data in real time. Predictions about future incidents become possible. Data loss and errors never even have the chance to occur.
Our highly qualified, certified specialists advise you on the design of the SIEM suitable for your company and implement that design with the market-leading Splunk solution. This platform allows the entire infrastructure of a company to be mapped using data technology.
Gartner 2017 Magic Quadrant for SIEM
Consist uses the market-leading SIEM solution Splunk. For the sixth year in a row, the renowned market research institute > Gartner Inc. has assigned this security platform a particularly high level of solution competence.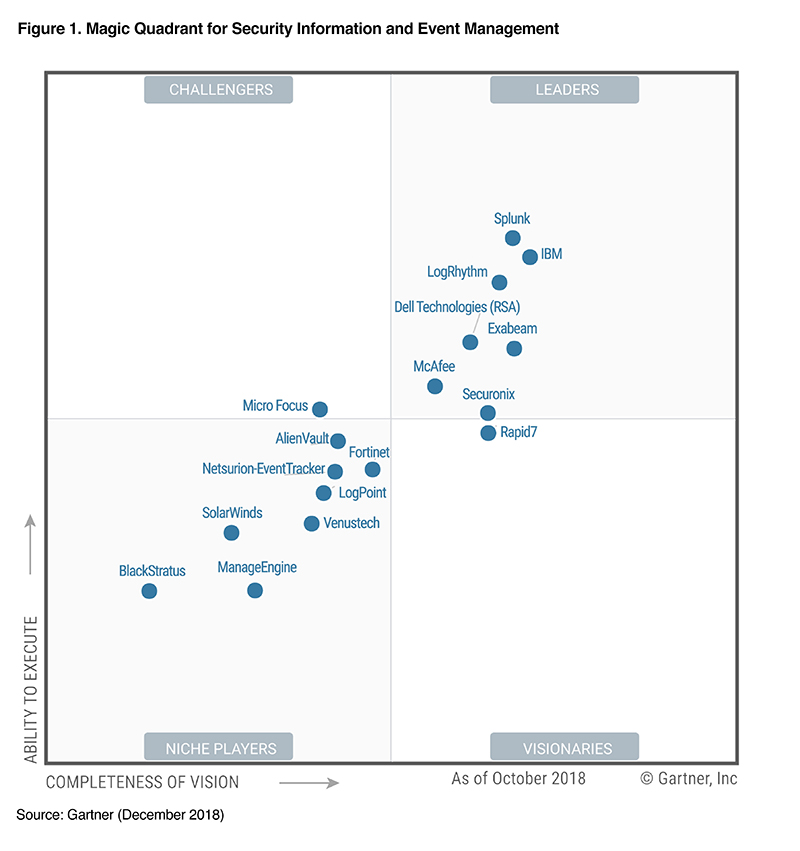 Components of a SIEM
Benefit from centralized security information and event management that cannot be manipulated and can operate in real time.
All user processes, even for privileged users, are audit-proof and integrated into the company's day-to-day operations in accordance with the latest security requirements (imposed for example by the European Central Bank (ECB), the German Federal Financial Supervisory Authority (BaFin), the German Supervisory Requirements for IT in Financial Institutions (Bankaufsichtliche Anforderungen an die IT, BAIT), GDPR, and the German IT Security Act).
Functioning of a modern SIEM
What is the difference between a conventional SIEM and Splunk for Security?

Splunk's security intelligence platform, consisting of Splunk Enterprise and the Splunk app for Enterprise Security, provides a 360° view of threats to your data.
Security Orchestration, Automation and Response (SOAR)
At a certain company size, it makes sense to automate the incident management process even more. Aside from the fact that analysts are relieved of the considerable burden of recurring tasks, the response times for events are increased many times over.
Security incidents are forwarded by SIEM to the SOAR platform and clustered there (automation). This significantly reduces the case load. The response process starts by forwarding information to the integrated security tools (orchestration and response).
The Phantom SOAR platform used by Consist combines security infrastructure orchestration, playbook automation, and case management functions to link IT teams, processes, and tools even more effectively. Security incidents can thus be drastically scaled.
User Access Management
User Behaviour Management (UBM)
The greatest cybersecurity threat facing businesses today is no longer the malicious external attacker. It's insiders – the company's own employees or external service providers who are granted access to company data. User behavior management distinguishes between their normal activities in the company and irregular activities.
What are insiders? What are insider threats?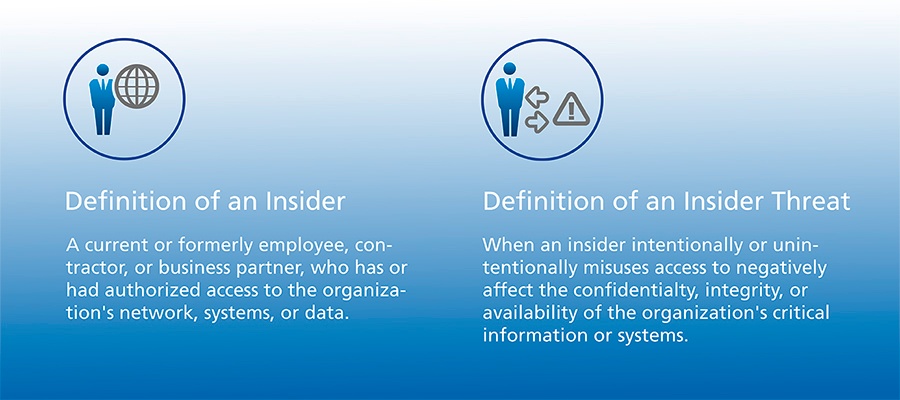 Monitoring and data loss prevention (DLP)
Given the increasing complexity of insider threats, it's not enough just to focus on protecting data on machines and networks. It is becoming increasingly important to include endpoint management using monitoring tools that also protect privileged users from operating errors and abusive behavior. Thanks to pseudonymized data analyses, employee rights and current legal requirements can be taken into account. Compliance requirements can be met by comprehensible audit trails.
ObserveIT provides you with a central solution for data loss prevention (DLP), user access management (UAM), and user behavior management (UBM) for all common operating systems and platforms.
The challenges in DLP
DLP begins by classifying, tracking, and preventing data from leaving the organization through unauthorized channels. Research shows that successful DLP implementations are very rare. Several important factors have significantly affected the effectiveness of DLP software. The main challenge is the exponential growth of unstructured and semi-structured data in organizations. This leads to a major challenge for DLP: to keep pace with the constant creation and modification of sensitive data.
As a result, organizations often struggle with data-heavy DLP agents at the endpoint, a time-consuming data classification process, ongoing maintenance, and a disconnect between data owners and DLP administrators.
In addition, there is the human resources factor. Human beings are the greatest challenge when implementing effective security control sets.
Contemporary DLP solutions
Modern DLP approaches are therefore in great demand – systems which can act holistically and at the same time have some frugality with data, in accordance with employee rights. With > ObserveIT, Consist uses a solution that detects insider threats, streamlines the investigation process, and implements flexible preventive measures.
The core essentials of your IT security
COMPREHENSIVE: No matter whether it oversees a network, server, or user, a security solution should provide all the appropriate functions.
SIMPLE TO MANAGE: All steps should be easy to handle and easy to document.
TEAM-CAPABLE: Compatibility with a wide range of data resources and operators is what makes effective security possible.
End-to-end service
Relieve your employees from the analysis of security events, incident management, and the continuous integration of new source systems.
In terms of an end-to-end solution, the operation of the SIEM and the risk management tool ObserveIT can be transferred to the application support team provided by Consist's Managed Services.
Managed Services
Your contact
Asmus Hammer
Sales Manager Projects
phone: +49 431 3993-637
mobile: +49 172 6816706
e-mail: hammer@consist.de