Consist's Managed Services – we join you on your way forwards!
Are you right in the middle of digitalization and need a strong partner who has your back?
Consist's Managed Services give you the freedom you need to concentrate completely on developing your core business. We take care of the entire migration, cover the maintenance and further development of your applications and ensure your existing systems are taken care of in a trustworthy and efficient way. Plus we make sure that your security does not get neglected!
Our years of experience give you security.
Consist Managed Services Portfolio
Why should I choose Managed Services with Consist?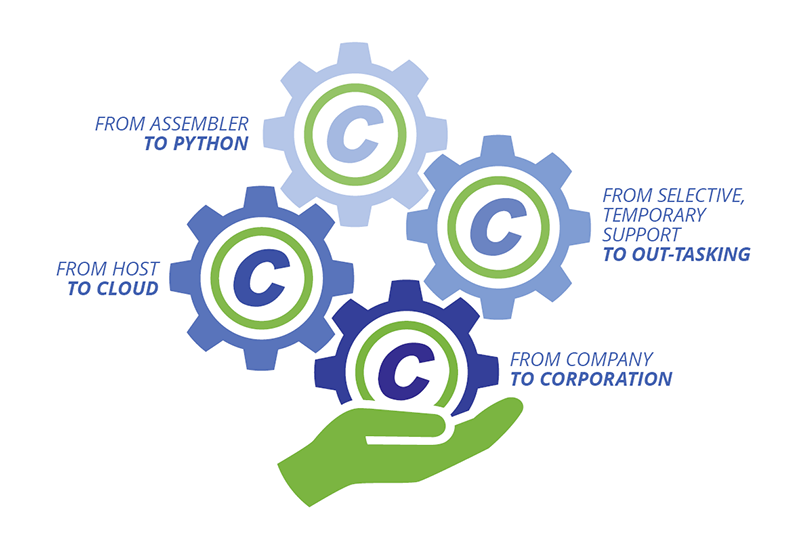 We develop custom-made solutions just for you.
We offer considerable increases in efficiency through effectively managed services.
Over 35 years of experience on the market and long-term client relationships ensure stability – conscientiously and humanly.
Our comprehensive approach guarantees high quality at all times, throughout the entire life cycle of your applications and systems – from the initial consultation to actual operation, even during migration phases.
We resolve your lack of specialist staff with customized service concepts.
We are no strangers to legacy systems. More than 50 application developers are available for this (Cobol, Natural, PL/I, Assembler), together with sound know-how in host-based operating topics.
We support the latest security platforms and cloud solutions.
Training our staff ourselves and our cooperation with universities ensures long-term quality assurance.

Enabling digitalization
The digital transformation is leading to the emergence of totally new digital business models and value chains, which is why companies must react to this constant change with a great deal of flexibility and agility. While doing so, normal IT operations should continue to run as usual. Consist's Managed Services can help.
We create freedom for innovation with our managed services!
Holistic approach

We offer you comprehensive support adapted to your needs: from analysis to development, to support of your applications and systems as part of our Managed Services.
That leaves you breathing space to implement corporate strategies despite the current shortage of technology experts.
Our consultants can support you in questions of strategy, as well, if you like.
Your contact
Katharina Bischoff
Portfolio Manager
phone: +49 431 3993-554
mobile: +49 172 7436238
e-mail: bischoff@consist.de
Infobox
*Embedded YouTube video
During playback, a connection to the servers of YouTube is established and personal data may be transmitted to Google. Cookies are also stored. You can find further information in our privacy policy
FAQs about our Managed Services
Can Managed Services save me money?
Yes, they can! By outsourcing service tasks, you can reduce costs.
You keep full budgeting reliability and cost control. Take advantage of
– High transparency with monthly SLA reviews;
– High flexibility with a configurable service volume.
Will my business-critical applications/systems really continue running smoothly?
Absolutely. We ensure high service availability and high quality by means of
– Our established processes in takeover and operation;
– Our highly qualified and motivated employees.
Do I have to change the tried and tested processes I have built up over years?
No! We support you however is best for you. Ideal support is based on your business processes.
What do I gain by using Managed Services?
I can concentrate on my core competencies, reduce costs, and avoid personnel bottlenecks.